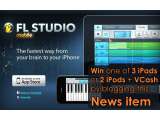 Image-Line are pleased to announce FL Studio Mobile will be available from your local App Store on Tuesday 21st June 2011. There are two FL Studio Mobile applications: FL Studio Mobile: For iPhone & iPod Touch, G3 & G4 with Retina display support - $14.99 introductory and $19.99 after FL Studio Mobile HD: For iPad 1 & 2 - $19.99 introductory and $24.99 after FL Studio Mobile is available in iPhone/Pod and iPad (HD) versions. FL Studio Mobile Getting Started with the FL Studio Guru FL STUDIO MOBILE KEY FEATURES Load and extend projects in the FL Studio desktop version Resizable, stackable piano keys & reconfigurable drum-pads Stuffed with...
Satu hal yang menjadi masalah dalam produksi musik untuk para pemula dengan menggunakan aplikasi-aplikasi DAW (digital audio workstation) adalah pada tahap MIXING. Mixing merupakan subjek yang sangat dalam, terbukti banyak buku yang membahas tentang cara-cara melakukan mixing. CATATAN: Ingat Mixing Bukanlah Mastering!!! Mixing adalah cara untuk menyatukan beberapa audio (hasil multi-track recording) ke dalam satu wadah audio yang hanya memiliki beberapa channel. Pada blog ini hanya akan menjelaskan dasar-dasar mixing untuk output stereo (2 Channel). Seperti kita ketahui, bahwa dalam satu hasil produksi (atau ambil saja contoh satu track lagu) di dalamnya terdapat...
Featured
Saya sedikit terkejut ketika mencari-cari referensi software audio untuk GNU/Linux di internet, karena hasil yang saya dapatkan lebih dari sekedar "MEMUASKAN". Kenapa? karena ternyata kemampuan software-software audio produksi masal ini memiliki kualitas, kuantitas, dan permorma yang jauh di atas software-software komersial yang ada di windows. Dengan mengimplementasikan Jack pada GNU/Linux, performa transfer data audio dari aplikasi ke soundcard sangat meningkat secara drastis. Berikut adalah daftar dari beberapa software yang saya kira layak untuk digunakan sebagai aplikasi studio rekaman profesional ataupun home production. 1. Rakarrack (...
Dibaca : 8273 Kali
Selasa, 22 Juni 10 - 11:03 WIB
11 Komentar
Rating : 1 Bagus, 0 Jelek
ARDOUR, AUDACITY, AUDIO, GNU/LINUX, LMMS, MASTERING, MIXING, MULTIMEDIA, MULTITRACK, RAKARRACK, RECORDING, ROSEGARDEN